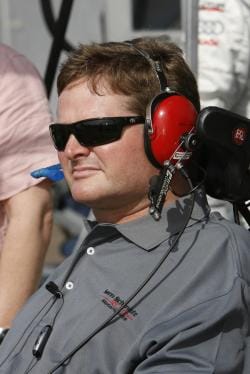 Sam Schmidt was born in Lincoln, Neb. and moved to California as a toddler. He attended Pepperdine University, receiving a B.S. in Business Administration in 1986, and an MBA in International Finance in 1987. Following graduation he became a Hospital Administrator, purchased his father's auto parts company in 1989, and went on to be involved with other entrepreneurial success stories such as Arnette Sunglasses, Copart, Precision Healthcare, Pole Position Raceway and others. In 2012, Schmidt became involved as an investor and Board Member of the Braun Corporation, the industry leader in providing wheelchair accessible vehicles and mobility devices to the disabled community.
Following in his father's footsteps, Schmidt developed an unmeasured interest in motorsports. He raced at a competitive amateur level and in 1993 he won the SCCA National Championship in the F2000 series. However, his goal was to race in the Indianapolis 500. On his journey to fulfill this dream, he began driving professionally in the USAR Hooters Pro Cup Series where he finished third in the Series and won Rookie of the Year honors.
In 1997, he made his first IndyCar start. He raced three consecutive years in the Indianapolis 500 and netted his first victory from the pole at Las Vegas Motor Speedway in 1999, finishing the year fifth in series points. During testing in preparation for the 2000 season, Schmidt suffered a horrendous crash at Walt Disney World Speedway on January 6, 2000. The accident rendered him a quadriplegic. After leaving the hospital, though no longer able to drive a racecar, Schmidt was still passionate about the sport. Inspired by meeting paraplegic Formula One team owner Sir Frank Williams, he founded Sam Schmidt Motorsports. Through his leadership, the team has become the most successful in the history of the Firestone Indy Lights Series winning seven Series Championships. The team also fields entries each year in the Indianapolis 500 keeping his dream alive to one day win the race – not as a driver but as a team owner. In 2011 he established a full time IndyCar team that has won the Indy 500 Pole Position twice, secured five victories, and finished third in the 2013 point standings.
Shortly after his accident, Schmidt and a few close friends founded the Sam Schmidt Paralysis Foundation, which was rebranded Conquer Paralysis Now in 2015. Through the years the Foundation has funded research on a global level, provided grants to organizations benefitting the disabled, and continues its nationally acclaimed Day at the Races program providing opportunities for individuals with disabilities. A major focus of the program is encouraging people to find their passion and continue to live their dreams … just as Schmidt has done.
Conquer Paralysis Now has embarked on a major initiative to spark collaboration among researchers on an international level from various scientific fields to find cures and treatments for paralysis.
In May of 2014, he drove a Corvette Stingray re-engineered by Arrow Electronics, more than 100 miles per hour around the iconic Indianapolis 500 Oval using a head array to steer and a bite plate to brake. Over the next two years by advancing the technology, he was able to reach 152 miles per hour at Indy, participate in the Pikes Peak Hill Climb and received the first ever semi-autonomous driver's license. He will continue pushing that envelope in 2017.
Because of his passion and unwavering belief that anything is possible, Schmidt has received the Gateway to a Cure Award, New Ability Award, Visionary Leadership Award from the Christopher and Dana Reeve Foundation, the Distinguished Alumni Award from Pepperdine University, the Humanitarian Award from the Las Vegas Walk of Stars Foundation and the 2013 Courage Award. He has served on the Board of Directors for Desert Canyon Rehabilitation Center and Speedway Children's Charities as well as Chairman of the Board of the Sam Schmidt Paralysis Foundation.
Schmidt lives in Henderson, Nev. with his wife Sheila, and their two children, Savannah and Spencer.