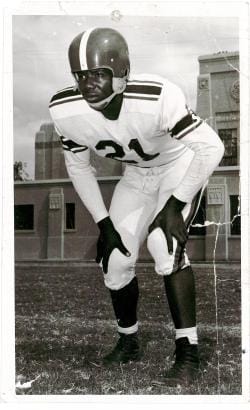 A native of Vidalia, La., Overton Curtis was born into a family of 16 children. He and his family came to Las Vegas when he was five years of age.
Curtis was actively engaged in a number of sports and became one of the best all-around athletes from his era. He was a standout performer in football, basketball, baseball and track at Las Vegas High School.

He began his collegiate football career at San Bernardino Valley College in 1955. He transferred to Utah State University and played two years for the Aggies, 1957-58. As a junior in 1957, Curtis totaled 616 rushing yards and led the NCAA in both kickoff return yardage (695 yards) and kick return average (30.2). He also finished second in scoring in the Skyline Conference with 63 points. He was selected as a first-team halfback on the 1957 All-Skyline Conference team.
In 1958, despite missing four games with an ankle injury, Curtis finished ninth in the nation in kickoff return average. Following his senior season, in February of 1959, Curtis signed a professional contract with the Pittsburgh Steelers.
After his playing career, Curtis worked as a Juvenile Probation Officer for Clark County and, soon after, began a teaching and coaching career at Valley High School, fulfilling a goal he aspired to when he was a child. He taught both mathematics and physical education.
He was also a well-respected coach, with stints at both Valley and Rancho High Schools. He was involved in a variety of sports, including football, basketball, soccer and boys and girls track.
Curtis passed away on December 15, 1991 at the age of 55. He is survived by his wife, Connie, and two children – Marilyn and Byron.