Hall Of Famers
2017 Inductee - Las Vegas Bowl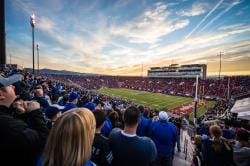 Las Vegas has become one of the nation's top destinations for college athletic events. And the Las Vegas Bowl helped to pave the way.

Organized by community leaders out of a need to fill hotel rooms during a traditionally slow period in a world-class destination city, the Las Vegas Bowl first kicked off in December 1992. It has since become one of the Silver State's premier annual events and been nationally televised on ESPN, ESPN2 or ABC every year of its existence.

Of the 39 current bowl games, the Las Vegas Bowl is now the 16th-oldest game overall and ranks No. 13 in age on a list of current bowls that have remained in one city during their entire history. And that's been critical for the community. In its first 25 years of existence, the Bowl has attracted nearly half-a-million out-of-town visitors and pumped nearly $325 million into the local economy. The Las Vegas Bowl is the second longest annual event in Las Vegas; second only to the National Finals Rodeo.

The visionaries who created the game may have been addressing the city's need to fill hotel rooms during December, but they did so much more. They began a movement to position Las Vegas as one of the top cities in the nation to stage college athletic events. Today, four NCAA Division-I conferences hold their basketball championships in Las Vegas and the city also plays host to some of the most popular neutral site games and tournaments in various sports.

Games on Christmas Day and then Christmas Eve were staged before organizers settled on a pre-holiday kickoff to annually pit teams from the Pac-12 and Mountain West conferences against each other at Sam Boyd Stadium. Many nationally consider the Las Vegas Bowl as the kickoff to the annual bowl season. No less than nine of the current members of the Pac-12 conference have appeared in the bowl while 10 of the current 12 MW teams have appeared in the game.

Starting with the "BYU Boost" that saw the highly-followed Cougars participate a record five consecutive years from 2005-09, the bowl has regularly been a sellout, including eight of the last dozen. In fact, the largest crowd to ever witness a team sporting event in the state of Nevada happened at the 2006 Las Vegas Bowl when BYU defeated Oregon in front of 44,615 fans.

The bowl has also been home to some major milestones in college football. The first overtime game on the FBS level took place in 1995; Katie Hnida became the first woman to play in an FBS game when she attempted an extra point for New Mexico in 2002; Kellen Moore notched his NCAA-record 50th career win as a starting quarterback for Boise State in 2011 and just last December, Las Vegas product Donnel Pumphrey returned to his hometown to become college football's all-time leading rusher with an MVP performance to lead San Diego State to an upset of Houston.

In 2011, the inaugural class of the Las Vegas Bowl Hall of Fame was inducted and included NFL star and former Oregon State RB Steven Jackson, CFL record-holder and former Utah State QB Anthony Calvillo, former NFL and UNLV coach John Robinson, and LVCVA president and one of the game's founding fathers, Rossi Ralenkotter. To help commemorate the game's 25th edition last December, the second hall of fame class was inducted as former NFL and Cal RB Marshawn Lynch and legendary announcer Brent Musburger were joined by R&R Partners' Executive Vice President Rob Dondero.
The Bowl File
Born: December 31, 1969
Claim to Fame: The top three largest crowds to ever witness a team sporting event in the state of Nevada happened at the Las Vegas Bowl; 2006 BYU defeated Oregon in front of 44,615 fans, 2015 Utah over BYU - 42,213 and 2013 USC defeated Fresno State - 42,178.