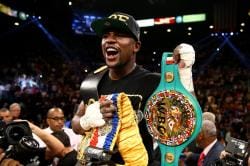 Born and raised in Grand Rapids, Mich., Floyd "Money" Mayweather was born into a boxing family. His father, Floyd Sr., was a former welterweight contender who fought Hall of Famer Sugar Ray Leonard, and his uncles, Roger and Jeff, were also pro fighters, with Roger - Floyd's former trainer - winning two world championships during his prime.
Fitted with boxing gloves while he was still a toddler, Mayweather started boxing competitively at the age of seven and his acumen for the game was obvious from the start. He would go on to compile an 84-6 amateur record while earning three Michigan Golden Gloves titles, three National Golden Gloves titles, PAL and National Championships and an Olympic Bronze medal in the 1996 Games.
He turned pro in the super featherweight division on October 11, 1996, launching his career with a knock out of Robert Apodaca. He claimed his first title, at 130 pounds, on October 3, 1998 with a near flawless performance against Genaro Hernandez.
In 2007, Mayweather had his true coming out party when he faced Oscar De La Hoya in a fight known as "The World Awaits." The sports world could not wait as the fight shattered every boxing earnings record in the book, including all-time live gate and pay-per-view earnings numbers. His victory over the "Golden Boy" earned Mayweather a whopping $25 million from his share of the revenue generated from the 2.4 million households that purchased the fight (a gross of more than $120 million).
In a fight that will likely be his most memorable, on May 2, 2015 Mayweather faced Filipino legend Manny Pacquiao in a highly anticipated duel that turned into the biggest economic success in boxing history and one of the most talked about sporting events ever. Mayweather was masterful in the ring, using his jab and counter right hands to keep the usually ultra-aggressive Pacquiao at bay on the way to a unanimous decision.
Mayweather has received an endless list of accolades, including five ESPN ESPY Fighter of the Year awards. The Boxing Writers Association of America, Ring Magazine, BET and the Nevada Boxing Hall of Fame have also honored him as Fighter of the Year.
Throughout his illustrious career Mayweather displayed an unprecedented mix of speed, power and natural instinct every time he stepped into the ring - a combination that translated into 49 wins without a loss, 26 knockouts, and 12 world championships in five weight classes.
Mayweather has continued to set an even higher bar outside of it. References of "TMT" (The Money Team) and "TBE" (The Best Ever) have become familiar throughout the world as he continues to build his successful promotional company, Mayweather Promotions and his "The Money Team" and Mayweather Sports clothing and apparel brands.
He is also active in the community, serving as the Director of The Floyd Mayweather Jr. Foundation (TFMJF), which he founded in 2007. In addition, he supports the homeless in Las Vegas and has graciously donated to Susan G. Komen Las Vegas Chapter, Habitat for Humanity Las Vegas, Three Square Food Bank and Rainbow Dreams Academy.